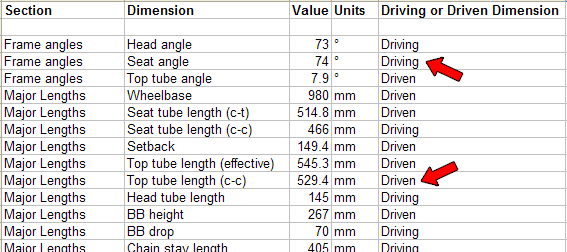 The CSV file produced in BikeCAD Pro lists various dimensions. Some are shown to be driving others are shown to be driven. The driving dimensions are the values that were directly input into BikeCAD. For example, head angle and seat angle can be directly specified through text fields in BikeCAD. The driven dimensions are calculated by BikeCAD. Driven dimensions will change as a result of changes to driving dimensions.
Note that in some cases, BikeCAD lets the builder choose which dimensions will be driving and which will be driven. For example, there is a selection menu for BB drop. If BB drop is selected, then BB drop will be a driving dimension while BB height will be a driven dimension. The reverse is true when BB height is chosen.
This option to choose which dimensions to make driving or driven is also available with effective top tube length, front center, head tube length and top tube angle, with saddle position, with head tube and seat tube extension, as well as with chain stay length and rear wheel gap.